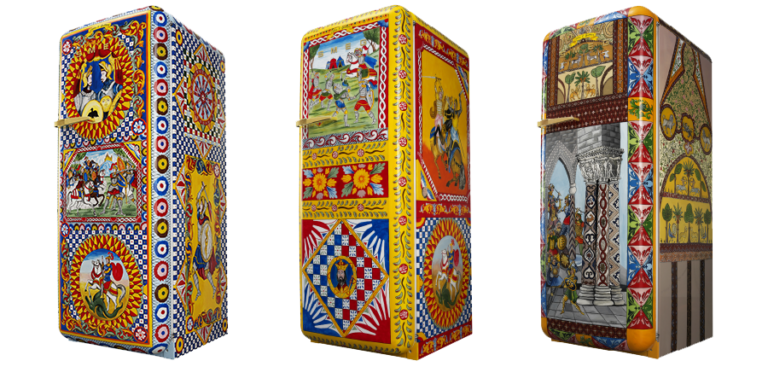 DOLCE & GABBANA AND SMEG ART REFRIGERATOR
Dolce & Gabbana and Smeg , collaborate again in the realization of a special edition of the FAB28 refrigerator , making it a work of art. Two companies belonging to different creative fields, but united by strong values ​​and traditions that combine the dimensions of Made in Italy : the origins, understood as belonging to the territory and as a family dimension, the memory of traditions and the creative ability to contaminate eras, disciplines and sensitivity.
Thus was born a special FAB28 Smeg refrigerator with an unmistakable Dolce & Gabbana trait given by the images painted on each specimen by the hands of Sicilian artists: lemons, trinacrie, the wheel of the cart, medieval knights, scenes of battles, all characteristic elements of the poetics of the puppet theater and of the Sicilian cart, motifs symbol of Domenico's aesthetic Dolce and Stefano Gabbana . The themes developed on each product are then embellished with classic decorative floral motifs. The result is 100 exclusive refrigerators in which innovation, combined with the skilful attention to detail, creates unique pieces, which combine the quality and technology of the products made by Smeg and the creativity and craftsmanship signed by Dolce & Gabbana .